The CMSE Publishes a Supplementary Textbook on Morality and Economics for Vietnamese University Students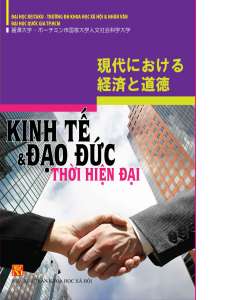 On the 4th of November, President Osamu Nakayama, Prof. Kazunobu Horiuchi and Associate Prof. Suzuka Masamune visited the University of Social Sciences and Humanities, a part of Vietnam National University – Ho Chi Minh City [VNU-HCM]. President Nakayama and his colleagues had already visited the University twice before: to deliver lectures on morality entitled "The Reconstruction of Japanese Morality in the 21st century" and "The moral business management of Konosuke Matshusita" in 2011; and to conduct a symposium on "Morality and Economics in the Present Age" in 2012. The latter inspired further academic and educational collaboration, leading to the publication of a supplementary textbook entitled The Morality and Economics in the Present Age by the two universities.
The textbook, in its bilingual Japanese-Vietnamese version, consists of papers and essays by seven professors, four from Reitaku University and three from VNU-HCM. The Japanese contributions were as follows:
1)    Prof. Osamu Nakayama, President, Director of CMSE: "Conditions of Japanese Enterprise Continuity in relation to Japanese Culture and Moral Thought."
2)    Prof. Kazunobu Horiuuchi, member of CMSE: "Economic Ethics in the Modern Japan: Business Ethics in the Edo Period and Its Religious Origins."
3)    Prof. Toru Umeda, member of the Business Ethics and Compliance Research Center (R-bec): "The Development of CSR in Japan."
4)    Prof. Masahide Ono, Vice-Director of CMSE: "Economics and Morality in the Developmental Process of Japanese Capitalism: The Management Philosophies of Eiichi Shibusawa and Konosuke Matsushita."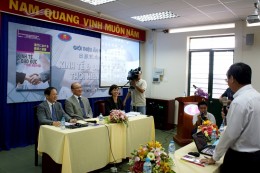 Events organized to mark the appearance of this publication during our latest visit to Ho Chi Minh City included: a celebratory ceremony attended by representatives of the mass media, including TV; commemorative lectures by President Nakayama and Professor Horiuchi for the staff and students of VNU-HCM; and a special lecture on the Japanese language by Associate Prof. Masamune for students majoring in the subject.
Today, Japan and Vietnam enjoy very close ties, both economic and cultural; for Vietnam, Japan is the world's biggest investor, while Vietnam is the only country in the world that is driving forward Japanese-language education. There can be no doubt that both countries are deepening their strategic relationship in the interests of peace and prosperity of Asia. In the sphere of higher education, too, as our joint publications shows, we are working together to develop cultural and academic collaboration at grass-roots level.