Lectures, Symposiums & Others
New Collaborative Ventures with the Jubilee Center for Character and Virtues
  Our center has participated in two important collaborative ventures with the JCCV this year.
 The first was an international conference on character, virtue and citizenship hosted by Norio Ikeno, a Professor at Hiroshima University and Director of the Research Initiative for Developing Learning Systems (RIDLS), and Tazuko Aoki, a Professor at Okayama University. It was held at the Campus Innovation Center Tokyo, on the Tamachi campus of the Tokyo Institute of Technology, between the 23rd and 27th of July 2015.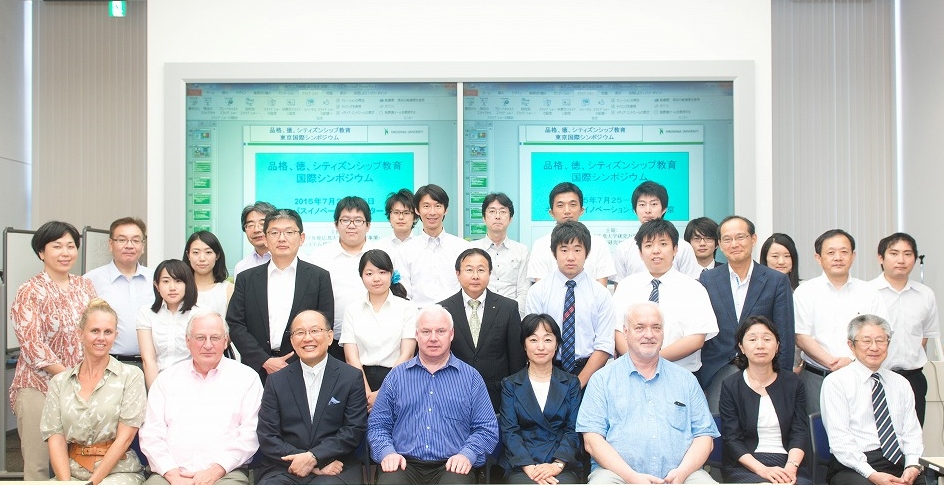 The conference theme was "The Importance of Education for Virtue, Character, Moral and Social Responsibility: How do People learn them?" President Nakayama was invited as a keynote speaker to deliver a presentation entitled "On Improvements in Japanese Moral education." Other keynote speakers included Professor James Arthur of the University of Birmingham, Director of The Jubilee Centre for Character and Virtues, and Professor Jon Davison, also of the University of Birmingham and The Jubilee Centre for Character and Virtues. President Nakayama enjoyed a friendly reunion with them.
 The second venture was a lecture meeting with the JCCV, hosted by the CMSE at Reitaku University and the Moralogy Institute. This inspiring academic meeting was held on September 14th at Reitaku University, with more than 15 professors and researchers participating, and resulted in a lively exchange of opinions. The meeting began with an opening address by President Nakayama, and then Professor Masahide Ono delivered a brief lecture on the "Outline of Moralogy." This was followed by an enlightening lecture, entitled "The theoretical and conceptual foundations of the Jubilee Centre", from the main speaker, Kristján Kristjánsson, Professor of Character Education and Virtue Ethics at the Jubilee Centre and its Deputy Director. He explained the projects being undertaken by the JCCV, both those completed and those in progress, and illustrated the importance of character education with reference to his recent book, Aristotelian Character Education (Routledge, 2015). He compared instrumentalist and non-instrumentalist conceptions of character education, as well as dealing with problems concerning character education and other matters. An active question-and-answer session that passed all too swiftly concluded proceedings.
  These activities did much to deepen the mutual understanding between the JCCV and the CMSE and there was mutual agreement on actively developing further collaborative ventures in the future.