Lectures, Symposiums & Others
Assistant Professor Eshima Gave a Lecture on Morals at Mito Girls' High School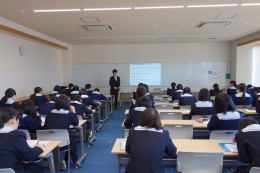 On December 15th,  assistant professor Kenichi Eshima, one of the members of CMSE, gave a lecture on "Moral Education by Memorable Words" in Mito girls' high school in Ibaraki prefecture. The lecture was intended for the third year students and based on "Moral Textbook for High School Students" (supervised by CMSE and published by Reitaku University Press). 
First, he approached the history of Japanese moral education in which the recitation of maxims played an important role. After that students have a talk about their favorite words and their episodes in some small groups.
Finally, He concluded his 60 minutes lecture with a mention of the power of words. He said "Kotodama (word spirit) refers to the Japanese belief that mystical power dwells in words and names. We can learn that words may lead to make our dream come true". About 40 students listened attentively to his lecture.