Lectures, Symposiums & Others
President Nakayama was invited to deliver a table speech on morality at the Rotary Club of Tokyo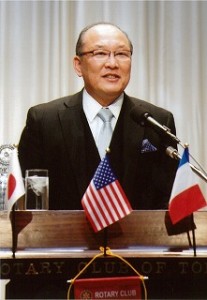 On March 12th, President Nakayama was invited to deliver a table speech at the "Regular Meeting of the World Rotaract Week" hosted by the the Rotary Club of Tokyo in the Imperial Hotel (http://www.tokyo-rc.gr.jp/jtablespeech/index.html). The Rotary Club of Tokyo was founded in 1920 and is the most prestigious Rotary club in Japan, with a current membership of 324 eminent individuals drawn from various fields.
Taking as his title, "The New Age Needs Moral Intelligence!", the President described how moral education is important not only in higher education, which has to engage in the reconstruction of knowledge in the 21st century, but also in adult education, which needs to impart generic competencies to those wishing to survive in this global age, He shed light on the importance of "moral intelligence" from the following three angles: first, the need to reconsider the concept of morality; second, the need to give substance to moral education in the Japan's tertiary sector; and third, the happiness created by employing moral intelligence in our daily live. He also referred to the international cooperation of the Center for Moral Science and Education at Reitaku University in this field with comparable centers at universities outside Japan, such as the Center for Character and Social Responsibility at the University of Boston, the Jubilee Centre for Character and Values at the University of Birmingham and the Center for Character and Citizenship at the University of Missouri -St. Louis.


The New Age Needs Moral Intelligence
March 12, 2014
Dr. Osamu Nakayama
President, Reitaku University
 At the outset, let me express my sincere gratitude to the Rotary Foundation for supporting my study in the UK in 1981. My speech today will elaborate on the important role moral education plays not only in higher education, required for the reconstruction of knowledge in the 21st century, but also in adult education that should impart moral integrity needed to survive the globalized society.

 I find it regrettable that discussions on moral education in Japan have centered on the debate over its pros and cons in the context of political ideology. Also it is widely understood that moral education should be given to children through home education or compulsory education, and it is not something taught to university or adult students. Let me emphasize, however, that as we live in a knowledge-based society, cultivating moral intelligence through higher education and lifelong education has come to play a more crucial role than ever in utilizing knowledge for the betterment of our society.

 Let me share with you what are needed to make moral intelligence create happiness in our daily life, with some concrete examples. Firstly, we must reconsider the concept of morality, and secondly, we have to give substance to moral education in Japan's higher education, based on academic studies.

 Talking about the concept of morality, etiquette and manners often come across our mind. Moral intelligence, however, is a much more profound and diverse concept that teaches us how to achieve "better relationships with others" through understanding what kinds of mental attitudes and actions we should take. Our interpersonal relationships rearrange themselves every time our life stages and circumstances change. This is why the learning of morality is a lifelong process, not limited to any particular developmental stage or circumstances.

 As we live in the age of globalization, there is a rising demand for a new kind of learning that provides "generic skills" to "think and take action by oneself towards solving one's problems or achieving one's goals." The need for such new ability has gained widespread recognition by countries around the world, that have given it different terms including "core skills" in the UK, "key competencies" in Australia, "basic skills" in the US, "transferable skills" in France and "key qualifications" in Germany.

 In Japan, "fundamental competencies for working persons" is a concept advocated by the Ministry of Economy, Trade and Industry since 2006 that comprises abilities in the following three key areas with 12 factors: "ability to step forward and act persistently even if you fail," "ability to question and think through" and "ability to work in a team and collaborate with various people to achieve goals" by overcoming self-centered and egoistic mentality. When we try to nurture moral intelligence through higher education in order to achieve these competencies, we face a major issue as there is no textbook or professor specialized in this area and even no education act in place.

 As we seek how higher education can accommodate moral intelligence, we must first break away from pointless arguments over the rights and wrongs of moral education and embark on extensive discussions in the education field based on academic studies. As the first step, our University started to work in partnership and collaboration with overseas educational institutes, including the University of Boston, the University of Missouri and the University of Birmingham, with the objective to conduct academic research on moral and ethics education that meet the needs of this globalized time. Jointly with the University of Boston, we published Happiness and Virtue beyond East and West: Toward a New Global Responsibility written for the general public in the US. The publication enumerates the nine virtues (courage, justice, benevolence, gratitude, wisdom, self-reflection, respect, responsibility and temperance) admired in all countries, transcending the framework of the East and West, and discusses how they bring about human happiness.

 Before closing my speech, let me share with you some concrete examples of how moral intelligence can create happiness in our daily life. As I mentioned earlier, moral intelligence teaches us how to achieve "better relationships with others." If we wish to achieve better relationships with "money" or "property," we find a word of wisdom in the Chinese classics the "Great Learning": a person of virtue establishes oneself by utilizing one's property for the benefit of others. You can test one's integrity not by how much one has gained but by how one spends it.

 Let me tell you a story about a white rose that embodies how goodwill passes on from people to people. Our alumna donated a newly-cultivated rose "Alan and Eileen Miller," named after the couple who had been the student's host family during her study in England. Mr. and Mrs. Miller gave the student deep affection, to which she developed a profound sense of gratitude. Their warm compassion that transcended human race and national boundaries made her realize the profoundness of humanity. The couple left the student a part of their legacy, which she spent on asking her classmate specialized in cultivating roses to breed a new white rose as a token of her gratitude. We take good care of the roses planted in the flowerbed of our University, as we cherish her feeling of benevolence.